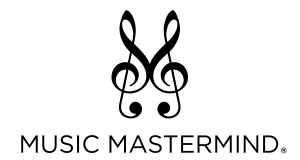 Security Policy
MusicMastermind.TV (Noisematch, Inc.) is committed to maintaining high security standards to protect the data of all parties who interact with our information systems. No data transmission across the Internet or information storage technology can be guaranteed to be 100% secure. MusicMastermind.TV takes several measures to minimize any risk and to protect your data and your business.
Encryption
MusicMastermind.TV employs encryption technologies using Secure Sockets Layer (SSL) from trusted vendors like Stripe & GoDaddy to encrypt sensitive data between and among you and our systems. MusicMastermind.TV also uses strong proprietary encryption methodologies to store and maintain particularly sensitive personal or financial information.
Authentication
MusicMastermind.TV recognizes how important our security best practices are to your business. Unlike many other websites, MusicMastermind.TV chooses your password and assigns it to you. Thanks to our encryption methodologies, your MusicMastermind.TV password cannot be viewed or discovered, even by our own staff. Other web sites may permit you to choose a password but may require special characters, formats, or numbers. MusicMastermind.TV's password policy ensures that your password is strong and unique. Unlike other website passwords you may use, your MusicMastermind.TV password cannot be discovered from your personal data or activity on other web sites. While this authentication practice may at times seem cumbersome, it is in place to protect you, your data, and your business.
Infrastructure Technology
MusicMastermind.TV chooses technologies, vendors, and partners that exhibit good security practices. Defense strategies are employed with inclusion-based rules and only permit known and acceptable activities from expected or trusted entities. MusicMastermind.TV maintains reasonable physical, electronic, and procedural safeguards that comply with pertinent statutes to protect your sensitive information.
Aggressive Fraud Analysis
MusicMastermind.TV automatically collects and interrogates the activities of all IP addresses that interact with MusicMastermind.TV systems. Suspicious or fraudulent behavior is dealt with immediately and directly using proprietary systems and procedures.
Comments and Questions
If you have any questions, comments or concerns about our Security Procedures, you may submit your inquiry to productsupport@noisematch.com